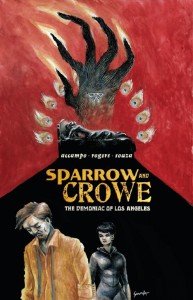 The full Sparrow & Crowe series is now available in its entirety on ComiXology.com! Read ALL FIVE issues, plus the Halloween Special today!
For more details about the Halloween Special, click here.
SPARROW & CROWE: THE DEMONIAC OF LOS ANGELES is a five issue comic book miniseries written by David Accampo and Jeremy Rogers, creators of the critically acclaimed audio drama, Wormwood: A Serialized Mystery. Brought to lush life by artist Jared Souza's atmospheric watercolors, Sparrow & Crowe features washed-up exorcist Doctor Xander Crowe and his sardonic partner Sparrow—both popular characters from the Wormwood series—in an original tale of occult noir that serves as a perfect entry point for new readers, while offering up a prequel story that fans of the show have long clamored for.